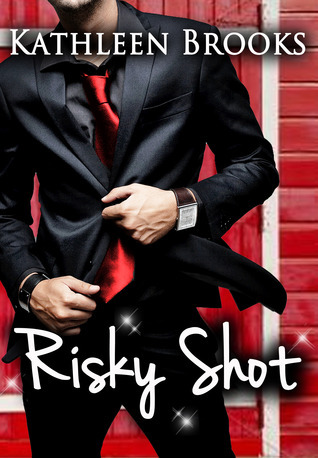 Risky Shot
Author: Kathleen Brooks
Series: Bluegrass, #2
Genre: Romance, Suspense
Publisher: Laurens Publishing
Publication Date: July 28th, 2011
Format: ebook
Pages: 245
Source: iBooks
D
anielle De Luca, an ex-beauty queen who is not at all what she seems, leaves the streets of New York after tracking the criminals out to destroy her. She travels to Keeneston, Kentucky to make her final stand by the side of her best friend, McKenna Mason.
While in Keeneston, Danielle meets the quiet and mysterious Mohtadi Ali Rahmen, a modern day Prince. Can Mo protect Dani from the group of powerful men in New York? Or will Dani save the Prince from his rigid, loveless destiny?
(
Goodreads
)

---
After reading
Bluegrass State of Mind
back in 2013 I knew I would continue with this series, I was so excited to read more about Dani, Paige, Cole and Mo! But off course, being like most book lovers I continued to add books to me TBR list and this series managed to get buried in the pile of series I need to finish. So I'm very excited to jump back into
Keeneston, Kentucky!
"Danielle De Luca pulled her rusting-out, muffler-dragging, piece-of-shit Chevy Lumina off to the side of the road and rested her head against the wheel. Well, more like banged her head against the wheel—repeatedly."
The Good
When it comes to reading series, or in this case a trilogy, I always worry about the 2nd book suffering from middle book syndrome. However, Risky Shot was not a book that fell into that category. Risky Shot definitely exceed my expectations, it was filled with more action than the first book and I enjoyed the romance between Dani and Mo more than Will and McKenna.

After getting snippets of her from the first book I knew that Dani would be one of my favourite characters, but to be honest when I read the first read chapters 1 - 3 I wasn't sure if I would actually like her. I wasn't a fan of how she acted towards McKenna, or more so her thoughts on how McKenna seems to be "living the life" kind of bothered me. So I re-read those chapters and really thought about how I would be feeling if I was Dani and went through all the things she endured and I realized that Kathleen Brooks managed to portray realistic (perfect) emotions.

Now, the romance between Dani and Mo, sigh. SWOON!! I knew they would be good together, and Kathleen Brooks did not disappoint. I loved how intense their first meeting was, it was like instant attraction. Although the attraction was instant, I like how the relationship gradually started to build and how they encountered problems. This made their relationship more realistic.
The Bad / The In-Between
Lasting Impression
Overall, Risky Shot was an AMAZING read! Kathleen Brooks is a talented writer who has a niche for combining the perfect amount of romance with suspense. I'm also convinced that she likes to keep her readers on their toes! After the way Risky Shot ended (CLIFFHANGER) I can't wait to start Dead Heat.