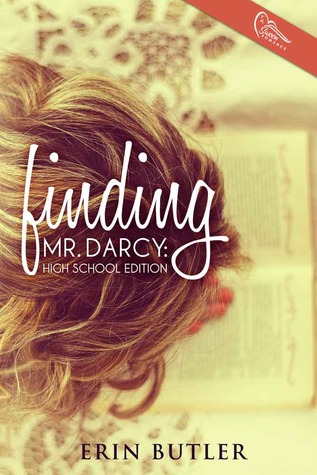 Finding Mr. Darcy: High School Edition
Author: Erin Butler
Series: Standalone
Genre: YA, Romance
Publisher: Swoon Romance
Publication Date: September 16th, 2014
Format: PDF
Pages: 243
Source: YA Bound Book Tours
Purchase:
Amazon
Sixteen-year-old Liza Johnson takes fangirl to a whole new level of crazy when she decides to take dating advice from her literary hero: Jane Austen.

With the help of her best friends, Liza sheds her ancient-speak and complete Austen wardrobe for something a bit more modern in an attempt at finding her very own Mr. Darcy.

Enter Will, the new kid and Liza's Darcy incarnate. Add her BFF's ex to mix and the sexy Brit who kisses with an accent, and Liza is in trouble.

So, what's a girl to do? Without her mom to go to relationship advice, Liza turns to the only person she can truly trust with matters of the heart via her mother's copy of COMPLETED WORKS OF JANE AUSTEN.

It's too bad Austen's heroines have never played Spin the Bottle or Seven Minutes in Heaven. Liza's determined to find her true Austen-esque happy ending, but if she can't trust herself instead of books, she just might end up in her own tragic love story. (Goodreads)
"The phone rang again and I immediately thought of Janie. My heart popped up through my throat and caught on a breath. She was here though, right next to me. Safe Her face still red and covered in dried, crusty tears."
I'm a huge
Pride & Prejudice
fan, actually I'm a huge fan of Jane Austen and
Pride & Prejudice
is my favourite novels by her! So when I caught sight of this blog tour I just HAD to sign up, a modern-day spin on her work? Genius! I think my overall take on
Finding Mr. Darcy
would have been different if I went into this realizing that it wouldn't be focused on just P&P. With the characters names, synopsis, and title I wasn't expecting it to pull different aspects from her other works. This added a unique take but I found it at times to be a little confusing to follow where the plot was going.
Finding Mr. Darcy
is told through from a dual-narration from Liza and Janie. This was a great idea since it allows readers to see the overall story from two different perspectives. However, at times I felt there were too many different things happening that for me personally it took away from the romance. Janie's chapters seemed to of focused on a different plot which was really interesting but I felt was too short and slightly rushed. I would have liked to have seen her story really develop a bit more since I had a hard time trying to connect to her character.
Now the romance itself didn't really play out the way I thought it would. As in, once I realized this wouldn't turn out like P&P I was able to pick up on how this would end. I won't spoil it for anyone, but personally I'm not a huge fan of who Liza and Janie ended up with. I was rooting for certain characters to be together and it just didn't happen!!
Overall
,
Finding Mr. Darcy
was well written, a rather cute and humorous read! Erin Butler has a great and descriptive writing style that really helped bring this story along. I look forward to reading more of her work.
Erin lives in Central New York with her very understanding husband, a stepson, and doggie BFF, Maxie. She prefers to spend her time indoors reading and writing, but will venture out for chocolate and sunshine. She is the author of BLOOD HEX, a YA paranormal, HOW WE LIVED, a contemporary New Adult novel, and FINDING MR. DARCY: HIGH SCHOOL EDITION, a contemporary YA.