We are so excited to share the cover for

You and Everything After

by Ginger Scott! Take a look and be sure to let us know what you think.

Author: Ginger Scott
Series: Falling, #2
Genre: New Adult, Romance
Publication Date: December 5th, 2014




I'm that teenaged girl who has MS. You haven't met me, but you've seen me around. You probably know my sister. We're twins, and she's the pretty one. Maybe you've heard about my reputation, how much I like to hook up at parties—how easy it is to get me in bed, get what you want, and forget about me after.

Forget what you think you know. I'm leaving that girl behind.

College is all about new beginnings. So from now on—I'm just Cass. And the rest…it isn't written yet. And no one else gets to write my story for me.

--------

"Tyson Preeter doesn't do can't."

That's exactly what I want people to think when they see me. I am strong, invincible, confident, intelligent—arrogant. I'm the man who always finds a way around, over and through—until there's nothing left. Since losing my ability to walk six years ago, I've relearned life. I don't need sympathy. I don't want charity. And I don't do love.

It's better this way, saves my disappointments for me, and me alone, and it saves my strength for everything I want.

But Cass Owens is about to wreck everything. She's about to steal all of my strength away from me, because she needs it more. She's about to break all of my rules, and break down all of my walls. She's about to own me…completely.

And I'm about to let her.

*This is the second book in the Falling Series, and it is scheduled to release Dec. 5. Book 1, This Is Falling, is out now. Each book can be read as a standalone and will focus on a different couple.*

(Goodreads)



Excerpt
"So honestly, when do I get to kiss you again?" She laughs at my harsh left turn in our conversation. I love the way she laughs. There's this rasping sound that comes from deep inside her that shows it's genuine, and her smile creases deep into her cheeks.
She flops to her back, and I instantly kick myself for causing her to move away. "You're really trying to wear me down, aren't you?" she says, her hand running along the side of her face until she covers her eyes, peering at me through her barely spread fingers.
"Wow, well…I've never really had to wear anyone down before…" I say, shielding my slightly dented ego.
"And that's precisely why we need to be friends, and why I can't kiss you…" she starts, and I interrupt.
"Again," I say.
"Right, again," she whispers and moves her hand back to cover her eyes. I take this opportunity to roll onto my side and really look at her, the way her lips barely part when she breathes, the small twitches they make when she fights against her body's urge to smile, the tiny movement of her tongue as it wets her lips. I have to kiss her again.
"But…and hear me out," I say, startling her with how close I am. She uncovers her eyes and turns to face me, scooting back a few more inches just to maintain this new self-imposed "safety"distance. "Maybe the fact that I am willing to work so hard just to get you to say yes makes you different."
She stares into my eyes for several long seconds, her lips slightly parted as she considers this. "Am I? Different?" she asks.
"Now see, there's the catch," I say, running my thumb softly over the wrinkles in the sheet between us. "I can't know for certain unless I kiss you again."
"Oh really," she says, smirking.
"Cross my heart," I say, motioning my hand across my chest. "It's in the handbook."
"There's a handbook," she says.
"Uh, duh. There's always a handbook," I challenge back.
"And your handbook says you can't tell if I'm worth your time without jamming your tongue down my throat?" she fires back.
"Wow. Again with the word slap," I say, secretly loving this back-and-forth we've got going now.
"Word slap?" she questions.
"Yeah, like, you just bitch-slapped me in the face with your words. Word slap," I say with a shrug. She holds my gaze after this and bites at the corner of her lip, her eyes squinting as she decides her next move.
"Okay, how's this," she says, leaning in a little closer, closing the gap in the invisible barrier she seems to have instituted when I started talking about kissing. "You can kiss me again…" I move toward her on instinct, but she's quick to put her hand against my chest to stop me. I grip it, tight, and meet the dare in her eyes. "But not until you mean it."
There's a fire in her eyes when she says this, one that I don't disrespect, and don't dare cross. It's not threatening, but it's serious, and I have this feeling churning in my stomach that Cass Owens is what Nate and I like to call a game changer. Her words have my heart racing, my mind worried that I can't mean it enough, at least not yet. All of our playfulness from seconds before has ceased with this line she's drawn, and I will obey it.
Holding her gaze, I lift the hand I've trapped against my body to my mouth and press my lips to her open palm. I don't speak, and I don't break our line of sight. But I don't kiss her, either.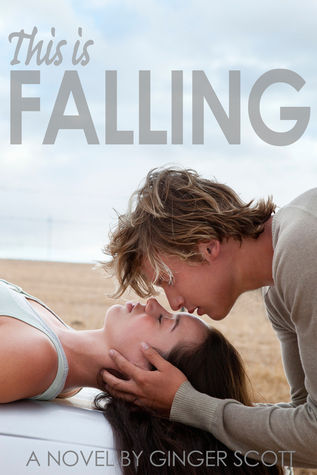 Author: Ginger Scott
Series: Falling, #1
Genre: New Adult, Romance
Publication Date: August 29th, 2014
Purchase: Amazon | B&N | iBooks | Kobo



First, I had to remember how to breathe. Then, I had to learn how to survive. Two years, three months and sixteen days had passed since I was the Rowe Stanton from before, since tragedy stole my youth and my heart went along with it.

When I left for college, I put a thousand miles between my future and my past. I'd made a choice—I was going to cross back to the other side, to live with the living. I just didn't know how.

And then I met Nate Preeter.

An All-American baseball player, Nate wasn't supposed to notice a ghost-of-a-girl like me. But he did. He shouldn't want to know my name. But he did. And when he learned my secret and saw the scars it left behind, he was supposed to run. But he didn't.

My heart was dead, and I was never supposed to belong to anyone. But Nate Preeter had me feeling, and he made me want to be his. He showed me everything I was missing.

And then he showed me how to fall.

*This is a standalone in a three-part series that will focus on different characters. Each book can be read on its own.*

(Goodreads)





About Ginger Scott




Ginger Scott is a writer and journalist from Peoria, Arizona. She is the author of four young and new adult romances, with her fifth title, This Is Falling, set to release in late August 2014.

Scott has been writing and editing for newspapers, magazines and blogs for more than 15 years. She has told the stories of Olympians, politicians, actors, scientists, cowboys, criminals and towns. For more on her and her work, visit her website.

When she's not writing, the odds are high that she's somewhere near a baseball diamond, either watching her son field pop flies like Bryce Harper or cheering on her favorite baseball team, the Arizona Diamondbacks. Scott is married to her college sweetheart whom she met at ASU (fork 'em, Devils).

Website | Goodreads | Twitter | Facebook