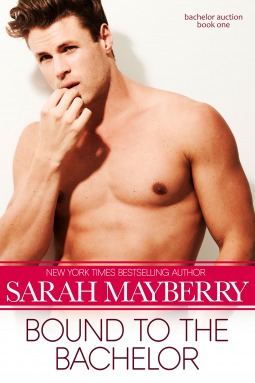 Bound to the Bachelor
Author: Sarah Mayberry
Series: Montana Born Bachelor Auction, #1
Genre: Romance
Publisher: Tule Publishing
Publication Date: February 20 2015
Source: NetGalley
Goodreads
|
Amazon
Your date with Marietta local Beau Bennett includes a day on the slopes at Big Sky Resort, complete with a sumptuous meal in the Resort's fanciest fine dining restaurant and door-to-door transport. Dig deep to secure the attentions of one of Montana's most eligible – and elusive – bachelors.

Lily Taylor knows Beau Bennett dislikes her, but that won't stop her from asking him to volunteer for the Bachelor Auction she's organized to help her friend Molly provide for her tragically injured son, Josh. If Beau's gorgeous face, piercing blue eyes and chiseled body inspires the women of Marietta to dig into their pockets for a good cause, then Lily will do whatever it takes to secure his participation.

Beau Bennett isn't sure how he wound up on the auction block being eyed up by hundreds of eager women, but he knows who to blame for it – Lily Taylor, the sexy, distracting, off-limits best friend of his kid sister. As far as he's concerned, the sooner this nightmare is over, the better.

The last thing either of them expects is for Lily to wind up bidding on – and winning – Beau, or that their date will lead to Beau stepping in to save Lily when her past comes back to haunt her. As Beau does his best to keep Lily safe, they discover that maybe they don't dislike each other quite as much as they thought.

In fact, maybe it's just the opposite…
Opening Lines
Go in there, ask the question, deal with his answer. Easy peasy.
Or so she thought! Now THIS was an enjoyable read!
This was my first time reading anything published by Tule, and I will definitely be adding them to my list of favourite publishers on NetGalley. This was a quick read (only 184 pages) that left me wanting more! I found
Bound to the Bachelor
to be such a refreshing read. It was realistic, cute, funny, and had elements that I just didn't see coming! There were so many moments that had me smiling and giggling. And the attraction between Lily Taylor and Beau Bennett...WOWZERS!!
His hand lay palm up on the table between them, waiting for hers. Feeling ridiculously nervous, she reached out and set her hand in his. His gaze pinned to her face, he turned her hand over, his thumb sliding sensually across her palm. A jolt of electric awareness raced up her arm and through her body, setting off fireworks in places that hadn't seen a man in more than a year.
"That's why I keep my distance," he said, his voice very deep.
Lily and Beau were quite the pair! Beau is just hot. Poor guy has been walking a thin line trying to keep Lily at a distance, and it ain't easy fighting that kind of attraction! I loved Beau from beginning to end, there wasn't a moment that I found him to be that "
annoying hero"
type. He's just PERFECT. Now Lily just thinks Beau hates her and that's why he keeps his distance, boy oh boy was she ever wrong! I automatically loved Lily, she's the kind of girl I want as my best friend! My heart broke when we learn about her past and the horrible things she's had to endure, but she doesn't let it ruin her! She's a strong character that has a lot of sassy :).
While there wasn't anything I necessarily hated about
Bound to the Bachelor
there was only one thing that I wasn't too impressed with. I felt like Lily and Beau's relationship quickly turned into insta-love. There has always been a intense attraction between Lily and Beau but I felt like the last chapter/ending wasn't well developed in terms of their relationship.
One bachelor down, 5 more to go!!
Challenge:
NetGalley & Edelweiss Reading Challenge